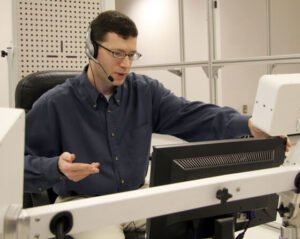 3dMD's Customer Care organization is committed to helping its customers through the entire process – from defining the initial application requirements through ongoing support. With a proven delivery methodology, the 3dMD team of experts not only delivers the right solution, but can also tailor comprehensive training and support programs that are sure to meet ongoing research or clinical requirements.
On-Site Installation: The first step is to understand your working environment. Once the 3dMD system usability requirements are established, 3dMD schedules a day at the customer's convenience to install the system at their preferred location.
Comprehensive Training Options: 3dMD's training programs are developed to ensure a seamless transfer of knowledge to the customer's team, maximizing the total return on investment. 3dMD tailors its training programs to fit the application requirements. 3dMD's educational curriculum ensures the foundation for long-term success.
• On-site system operator training for all types of system users and administrators, regardless of technical knowledge level
• Task-based instruction, hands-on workshops, and situational exercises
• Experienced instructor-led courses, or self-paced learning programs, that can be project-specific or industry-specific
Ongoing Customer Support: To maximize the value of the investment, 3dMD's customer support organization provides timely, effective assistance for its 3dMD systems and software applications. 3dMD has a range of customer care support packages including the various options:
• Technical assistance during office hours, via online and the telephone
• Problem diagnosis and resolution assistance
• Software upgrades to keep you on the leading edge
• Enhancement requests for new functionality
3dMD's technical experts are trained to take a focused and structured approach to solving critical, time-sensitive issues. 3dMD takes pride in monitoring customer activities and working with them to ensure continued success.
Whenever you have questions or suggestions, you can:
Send an email to support@3dMD.com. Please include your name, telephone number, a short description of your issue/question and preferred method of response phone or email.
Call our Technical Support Engineers between 9am-6pm EST at +1 770.612.8002 in the United States, or 9am-6pm UK time at +44 (0) 1483 68 5660 in Europe.