Date: January 2012.
Source: Press Announcement
LONDON (3 January 2012) – How are our faces constructed? How does your face differ from other faces? What do you look like in another dimension? These questions will be explored in Me in 3D – a new event running from 11 January until 10 April, where visitors can volunteer to have their photograph taken with a 3D camera and explore what their faces look like in another dimension.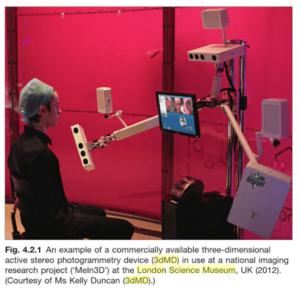 The project is part of the Science Museum's ongoing Live Science programme, where visitors can volunteer to take part in real experiments conducted by visiting scientists, which take place on the first floor of the Wellcome Wing.
The photographs, which will be taken using the latest 3D imaging technology from 3dMD, will be used to form the largest database of 3D facial images in the world and will help with vital research conducted by visiting surgeons from Great Ormond Street Hospital, University College Hospital and the Eastman Dental Hospital and Institute. The photographs will be used by the researchers to study patterns in face shape. This could help the surgeons improve treatment for patients with facial disfigurement.
Priya Umachandran, Contemporary Science Developer at the Science Museum said, "The Science Museum thrives on engaging visitors in the latest contemporary science issues and our Live Science programme lets visitors meet the experts and involves the public directly in cutting-edge research which has an impact upon all of us."
Dr Chris Abela, Senior Craniofacial Fellow, Great Ormond Street Hospital said: "We know a lot about the bones in our faces but little is known about what makes our face the shape it is and about the skin and muscles that make up our face. By collecting as many 3D face photographs as we can we will have a greater understanding of our complex faces, and have greater knowledge to plan and perform the best facial surgery in the future. This is a really exciting event and we want as many children, young people and adults to come and see themselves in 3D."
Me in 3D will run from 11 January until 10 April in the Live Science area on the first floor of the Wellcome Wing. The experiments are FREE and open to all visitors and no booking is required. For more information please visit http://www.sciencemuseum.org.uk/mein3d or http://www.mein3d.info/.
Some press coverage since the launch of the "Me in 3D" project:
• Jan 16, 2012: BBC Health, London's Science Museum to scan visitors' faces in 3D…
• Jan 23, 2012: wired.co.uk, Why the Science Museum needs your face…
• Jan 19, 2012: Dental Tribune International, Science museum offers 3D face screenings for visitors…
Science Museum: The Science Museum's collections form an enduring record of scientific, technological and medical change from the past. Aiming to be the best place in the world for people to enjoy science, the Science Museum makes sense of the science that shapes our lives, sparking curiosity, releasing creativity and changing the future by engaging people of all generations and backgrounds in science, engineering, medicine, technology, design and enterprise. www.sciencemuseum.org.uk
Great Ormond Street Hospital: Great Ormond Street Hospital for Children NHS Trust is the country's leading centre for treating sick children, with the widest range of specialists under one roof. With the UCL Institute of Child Health, we are the largest centre for paediatric research outside the US and play a key role in training children's health specialists for the future. Our charity needs to raise £50 million every year to help rebuild and refurbish Great Ormond Street Hospital, buy vital equipment and fund pioneering research. With your help we provide world class care to our very ill children and their families. www.gosh.nhs.uk.
UCL Eastman Dental Institute: With over 50 years of experience the UCL Eastman Dental Institute is a leader in education and research in the oral health care sciences. The Institute serves the needs of the local, national and international graduate dental community. Most clinical teaching is based at the co-located Eastman Dental Hospital. http://www.ucl.ac.uk/eastman/.
University College Hospital and the Eastman Dental Hospital: University College Hospital and the Eastman Dental Hospital form part of University College London Hospitals NHS Foundation Trust (UCLH), situated in the West End of London. UCLH is one of the largest NHS trusts in the United Kingdom and provides first-class acute and specialist services. The new state-of-the-art University College Hospital which opened in 2005, is the focal point of the trust alongside five cutting-edge specialist hospitals. The Eastman Dental Hospital is one of the UK's largest dental hospitals, providing high-quality care for patients with complex and specialised oral problems. The Eastman is world famous for the services it delivers and is recognised as a pre-eminent centre in the field of dentistry. UCLH is committed to research and development and forms part of UCL Partners which in March 2009 was officially designated as one of the UK's first academic health science centres by the Department of Health. UCLH works closely with UCL, translating research into treatments for patients. www.uclh.nhs.uk.