3dMD Collaborates with the Pioneering Customer Team at Atrium Health Wake Forest Baptist to Launch the 3dMDvultus™ Craniometrics Calculator for Use by the Global Craniofacial Community.
For Immediate Release
RALEIGH, NC, USA – May 2, 2023. 3dMD and the Atrium Health Wake Forest Baptist team are proud to introduce the 3dMDvultus™ Craniometrics Calculator to some of the world's leading craniofacial teams at the American Cleft Lip and Palate Association's (ACPA) 80th Annual Meeting in Raleigh, NC.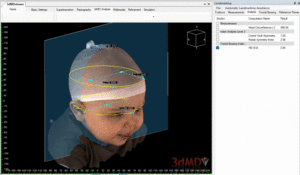 An enhancement tool within the existing 3dMDvultus™ surface analysis software, the Craniometrics Calculator incorporates the esteemed research conducted by the Atrium Health Wake Forest Baptist team. The tool will calculate multiple indices of regional and global dysmorphology in patients with craniosynostosis and plagiocephaly. These indices support a serial quantitative calculation of cranial shape for improved pre-operative evaluation and planning, as well as post-operative outcomes assessment. While these metrics have been meticulously determined, more expanded output is also available to allow for raw quantification of shape at all anterior points on the head enabling customizable assessment. Finally, the Craniometrics Calculator is designed to provide flexibility enabling Craniofacial teams to customize the software to focus on specific patient demographics (ethnicity, gender, age, etc.). The ability to do more advanced, non-invasive, 3dMD dense-surface image analysis results in less CT radiation for young patients throughout the treatment cycle.
Christopher M Runyan, Associate Professor, Department of Plastic and Reconstructive Surgery at the Wake Forest School of Medicine, said, "We expect these craniometrics to provide craniofacial surgeons a much-needed tool to support an objective assessment and comparison of our surgical outcomes. Perhaps as significantly, the expansive output options of this 3dMD tool will allow researchers to easily quantify head shape in a way that would have previously required a level of computer engineering that is not readily accessible for most surgeons."
"3dMD's customer community includes some of the most innovative research teams from around the world and we are always excited to collaborate with thought-leading customer teams to extend our technology," said Chris Lane, 3dMD's CEO and CTO. "We applaud the vision of the Atrium Health Wake Forest Baptist team to incorporate their important research into readily available software tools that create the potential to improve clinical treatment and outcomes for patients."
The Atrium Health Wake Forest Baptist team will be presenting their advanced research during the following sessions at the 2023 ACPA meeting in Raleigh.
Thursday, May 4 (10:50-11:00am). Prevention of Unnecessary CT Imaging in Scaphocephaly: The Objective Implementation of 3D Photography. This study creates a set of recommendations allowing for the implementation of measurement cutoffs to assist providers in the diagnosis of SC while simultaneously limiting unnecessary radiation exposure to pediatric patients.
Friday, May 5 (10:25-10:35am). Long-term Outcomes of Regional Morphology in Spring-mediated Cranioplasty and Cranial Vault Remodeling. As a result of this presentation, the participant will be able to describe how the regional and global morphology of cranium changes with spring-mediated cranioplasty and cranial vault remodeling in the short and long-term and be able to apply a databased surgical plan for sagittal craniosynostosis.
Friday, May 5 (10:45-10:55am). Creation of the Scaphocephalic Index: A System of Regional and Global Measures for Scaphocephaly. This presentation will outline a simply implemented tool to assist surgeons in the diagnosis and post-operative evaluation of patients with sagittal craniosynostosis. By objectively understanding morphology, surgeons will be better able to make data-driven operative assessments and plans.
Friday, May 5 (4:30-04:40pm). An Automated Tool for Differentiating Lambdoid Craniosynostosis and Deformational Plagiocephaly. This project will assist providers in differentiating plagiocephaly and unilateral lambdoid craniosynostosis. Further, it will assist providers who treat lambdoid craniosynostosis by objectively quantifying a morphology that is typically described qualitatively.
Atrium Health Wake Forest Baptist (www.wakehealth.edu) is a pre-eminent academic health system based in Winston-Salem, North Carolina and part of Advocate Health, the fifth-largest nonprofit health system in the United States, which was created through the combination of Atrium Health and Advocate Aurora Health. Atrium Health Wake Forest Baptist's two main components are an integrated clinical system – anchored by Atrium Health Wake Forest Baptist Medical Center, an 885-bed tertiary-care hospital in Winston-Salem – that includes Brenner Children's Hospital, five community hospitals, more than 300 primary and specialty care locations and more than 2,700 physicians; and Wake Forest University School of Medicine, the academic core of Advocate Health and a recognized leader in experiential medical education and groundbreaking research that includes Wake Forest Innovations, a commercialization enterprise focused on advancing health care through new medical technologies and biomedical discovery. Atrium Health Wake Forest Baptist employs more than 20,000 teammates, part of Advocate Health's 150,000 teammates. Atrium Health Wake Forest Baptist provided a record-setting $611.2 million in community benefits during the 2021 fiscal year, which includes unreimbursed care, charity care, education and research, and community health improvement. Follow us on Facebook, Twitter and Instagram.
3dMD (https://3dmd.com/). 3dMD's advanced technology enables its worldwide customer community to train, wear, and populate the Metaverse/Web3. With a 20-plus year proven clinical imaging track record, 3dMD offers the most widely deployed temporal-3D (4D-motion) dense-surface camera systems for human subject input applications demanding 'near ground truth' 3D shape precision including healthcare, computer vision-perception, Artificial Intelligence, Machine Learning, humanoid robotics, wearable-tech, human factors, AR/VR/XR, anthropometrics, etc. With an efficient subject workflow suitable for recruiting thousands of subjects, 3dMD systems capture progressive sequences of 'near ground-truth' 3D images of subjects, whether it is full body, face, head, hand, foot, etc. 3dMD's robust technology has sustained the findings in hundreds of peer-reviewed investigative research publications by members of the global 3dMD Customer Community.
For more information, please contact media@3dMD.com.